Lena has lived her whole life near the beach—walking for miles up and down the shore and breathing the salty air, swimming in the cold water, and watching the surfers rule the waves—the problem is, she's spent her whole life just watching. As her sixteenth birthday approaches, Lena vows she will no longer watch from the sand: she will learn to surf. But her father – a former surfer himself – refuses to allow her to take lessons. After a near drowning in his past, he can't bear to let Lena take up the risky sport. Yet something lures Lena to the water … an ancient, powerful magic. One morning Lena catches sight of this magic: a beautiful woman—with a silvery tail. Nothing will keep Lena from seeking the mermaid, not even the dangerous waves at Magic Crescent Cove. And soon … what she sees in the mermaid's mirror will change her life …
MY REVIEW:
The Mermaid's Mirror by L.K. Madigan is about bluntly saying, mermaids. The title tells you that alone. But this story is not just about mermaids, but finding who you are in a way. L.K. does an amazing job bringing the life of the teenager Lena, and the life of the world unknown together seemingly. This book The Mermaid's Mirror is going to be released on October 4, 2010, and from reading it I know its going to be a big hit.
Lena has a life that isn't like the rest of her friends. Living in a California beach town, almost everyone surfs, except for Lena. Even though her father is a surf

legend, Lena isn't allowed into the surf. After her father had a tragic accident he won't let Lena or her little brother any where near a board. But Lena is determined to get on a board, one morning while walking down the beach she catches sight of a women, more like a mermaid. But she thinks shes day dreaming. Everything changes after that Lena, keeps on dreaming of the ocean, sleep walking to it and wanting to go in. Lena is a courageous character, that wants to find her way in the world, even if it is under the surf. Other characters that play a part in this story are hard to explain without giving away the whole story. So I'm going to stay quiet about them.
The Mermaid's Mirror is a wonderful book. Seriously if you like mermaids pick it up when it comes out in October. I really loved this book and I am predicting like others that mermaids are the new big thing in the YA genre. Especially since they are so magical. :) But really pick up L.K. Madgian's new book, I haven't read Flash Burnout but I've heard good things about it, so you can expect The Mermaid's Mirror to be the same.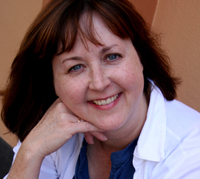 ABOUT THE AUTHOR:
(From flashburnout.com AND is written by L.K. Madigan, not me)
I was born in Portland, Oregon, but when I was ten years old, my parents moved to Los Angeles. They were pretty insistent that I accompany them. I spent the rest of my formative years in L.A. (the Valley, to be exact … a region made famous in both song and film). When I was 28, I decided I didn't want to spend the rest of my life in L.A., even though I had a cool job working at Warner Bros. Records. My husband and I decided to relocate to my hometown. I was pretty insistent that he accompany me. Living in Portland and L.A. made me the kind of person who is equally at home sitting in traffic jams or walking in the rain. I love to travel. I lived in northern England for a year while I was in college, where I learned to appreciate warm beer, milky tea, and Indian curries. I traveled around Europe while I lived there – those were the days when travel was cheap. I miss those days. Now when I travel, I am accompanied by my husband and son. In 2007 we went to England and Scotland to load up on castles, accents, and lochs. My favorite part of that trip was spending time with friends from my university days. Now our kids play together … a new generation of international friendship! We love meeting new people and exploring new places, but we're always happy to come home to our funny dogs, who have two missions in life: shedding long black hair and tracking mud into the house. FLASH BURNOUT was published in October 2009. My second young adult novel, a fantasy titled THE MERMAID'S MIRROR, is scheduled for release in Fall 2010. My road to publication has been filled with potholes and bumps, steep uphill trudges and deep downhill slides, laughter, tears, and always, the sound of friends and family cheering me on. I feel very lucky.