So I haven't been reading much of this book lately....
This week's teaser is from:
Love on Cue by Catherine Hapka
Part of the Romantic Comedies Series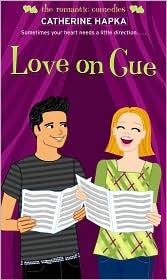 Synopsis:
(From
bn.com
)
Maggie Tannery is a true theater girl and a total shoo-in for the lead in this year's school production of Romeo and Juliet. She's seriously psyched because it looks like her crush Daniel, might be playing her Romeo both on- and offstage- if all goes as planned. But when her school decides to perform a musical instead, Maggie catches a major case of stage fright- because she can't sing! With her lead role in jeopardy, as well as her chance of winning her leading man, Maggie turns to the musically talented Nico to give her voice lessons. But their voices aren't the only things that seem to be harmonizing. As Maggie tries to break a leg- and not her heart- she wonders who the music man of her dreams really is...
First Teaser:
"'Coming through.' Nico reappeared, carrying a big, boxy piece of equipment dragging an extension cord." ~Page 14
Second Teaser:
"'I told you! I ran out of the DQ like a total nut job,' I said with a frown."~ Page 104