In honor of today being the release of
O, JULIET
by Robin Maxwell I would like to give you two teasers from the book, and to start off my day of posting about the book!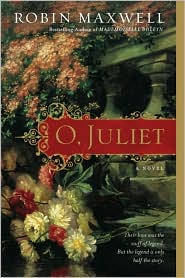 Before Juliet Capelletti lie two futures: a traditionally loveless marriage to her father's business partner, or the fulfillment of her poetic dreams, inpired by the great Dante. Unlike her beloved friend Lucrezia, who looks forward to her arranged marriage into the Medici dynasty, Juliet has a wild, romantic imagination that takes flight in the privacy of her bedchamber and on her garden balcony.

Her life and destiny are forever changed when Juliet meets Romeo Monticecco, a soulful young man

seeking peace between their warring families. A dreamer himself, Romeo is unstoppable, once he determines to capture the heart of the remarkable woman foretold in his stars.
"Touch. Smell. Sound. Sight," he uttered. "All so easily gratified." ~Page 66
"In the end, I realize, I had promised Lucrezia nothing."~ Page 60
(WARNING: There is going to be alot of posting today. Especially since I'm celebrating my first author interview!)