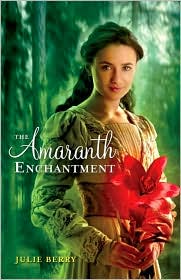 (From
bn.com
)
A delightful fairytale by a lyrical new voice.

When Lucinda Chapdelaine was a small child her parents left for the royal ball and never returned. Ever since, Lucinda has been stuck in perpetual servitude at her evil aunt's jewelry store. Then, on the very same day, a mysterious visitor and an even more bizarre piece of jewelry both enter the shop, setting in motion a string of twists and turns that will forever alter Lucinda's path. In this magical story filled with delightful suprises, Lucinda will dance at the royal ball, fall under the Amaranth Witch's spell, avenger her parents' death, and maybe- just maybe- capture the heart of a prince.
Amaranth Enchantment
is a well written book for Julie Berry's first novel. It has its flaws though like normal books due but they aren't so large.
Amaranth Enchantment
at the end just had a couple things that needed to be told but weren't; I'm not sure if this is leading to a sequel or not since Julie's site doesn't say anything about that just yet. The tale was a great innovation of the classic Cinderella tale, and gave it's own spin to the whole thing with witches, pick pocketers, and the evil aunt.
Lucinda the main character made for an interesting girl, she was the Cinderella, but was rich and friends with princes before anything happened to her parents. The other semi main character Peter who is surprisingly in the end some one else comes in really awkward, literally, he climbs in Lucinda's window. But then there is the Amaranth Witch who is literally not a bad witch, she's kind, and trapped in guilt. And I find her name really interesting since she named herself after the real and mystical Amarantha Flower, which she grows in the kitchen of her home. To the left is a picture of the real flower, which I find really pretty.
Yet, the story has a witty and clever retell of the original Cinderella story that it possibly was based off of. And in result Julie Berry made something of a simple tale. The cover of the novel is really pretty, and I like the fact that they included the mystical Amaranth flower with Lucindia on the front. The only reason I gave it two music notes was because of the unsolved business at the end, which left me off wondering a lot about the story and if there was going to be a sequel. Also the fact that some of the readers don't physically enjoy reading retells of old stories like Cinderella.
http://www.julieberrybooks.com/
(
Side note:
I would like to know if I'm doing this whole review thing right, because I feel like at times my reviews are really sucky. So if you have any suggestions on how I could improve could you comment them. Thanks.)