(This is a header I designed myself, so please if you want to use it have the courtesy in your heart to email me that you are going to use it!!!!!! (loud.words.and.sounds@gmail.com))


Teaser Tuesday is a weekly book blog meme, hosted by MizB of Should Be Reading. Anyone can play along! So the Instructions are easy:
3- Share two (2) "teaser" sentences from somewhere on the page
(I'm going to do two different pages.)
BE CAREFUL NOT TO INCLUDE SPOILERS!
(Make sure that what you share doesn't give too much away! You don't want to ruin the book for others!)
4-Share the title & author, too, so that other TT participants can add the book to their wishlists lists, if they like your teaser.
(I personally will include a summary of the book...)
My Teaser
Book Currently Reading:
The Morning Gift

by Eva Ibbotson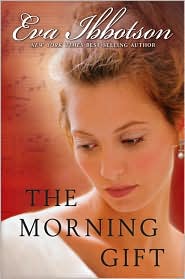 Twenty-year-old Ruth Berger is desperate. The daughter of a Jewish-Austrian professor, she was supposed to have escaped Vienna before the Nazis marched into the city. Yet the plan went completely wrong, and while her family and fiancé are waiting for her in safety, Ruth is stuck in Vienna with no way to escape. Then she encounters her father's younger college professor, the dashing British paleontologist Quin Sommerville. Together, they strike a bargain: a marriage of convenience, to be annulled as soon as they return to safety. But dissolving the marriage proves to be more difficult than either of them thought—not the least because of the undeniable attraction Quin and Ruth share. To make matters worse, Ruth is enrolled in Quin's university, in his very classes. Can their secret survive, or will circumstances destroy their love?
"Quin had not intended to accept an academic post. It was the journeys, the freedom to follow clues wherever they turned up, that he valued in his professional life, and though he kept a room in the Natural History Museum, he had resisted all offers of a chair." ~ Page 111
"Ruth awoke, bewildered, from a drugged sleep. The clock beside the bed said three o'clock- the predawn hour in which demons gibber and people die. At first she didn't know where she was... she seemed to be in a large bed covered by some kind of animal skin..."~Page 256