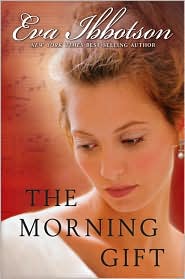 Twenty-year-old Ruth Berger is desperate. The daughter of a Jewish-Austrian professor, she was supposed to have escaped Vienna before the Nazis marched into the city. Yet the plan went completely wrong, and while her family and fiancé are waiting for her in safety, Ruth is stuck in Vienna with no way to escape. Then she encounters her father's younger college professor, the dashing British paleontologist Quin Sommerville. Together, they strike a bargain: a marriage of convenience, to be annulled as soon as they return to safety. But dissolving the marriage proves to be more difficult than either of them thought—not the least because of the undeniable attraction Quin and Ruth share. To make matters worse, Ruth is enrolled in Quin's university, in his very classes. Can their secret survive, or will circumstances destroy their love?
The Morning Gift
is a book like all of Eva Ibbotson's books that was filled with historic knowledge, while also with romance. I love Eva's writing style she keeps the story interesting while at the same time trying to teach you something that accord in history. She was one of the first historic romance reads I read with
The Countess Blow Stairs
and her books always are enjoyable.
Taking place during the beginnings of WWII, you see what life was before, during and after, with the final chapter being about V-E Day (Victory in Europe Day). The characters in this story were well thought out. And with Quin and Ruth you always had something going on, with it either going out and finding ancient bones or studying the anatomy of a frog or parasite. Both have qualities that any reader can enjoy. In the end the story end well, everything is summed up perfectly, and all unasked questions are resolved. I love the ending line though: "I buy you cake?" Its so quirky, but serious at the same time, ending the novel short an sweet.
(Just a side note, I was funny when I picked this up out of the Books to Read pile I have, because I was starting to learn about WWII, so I understood everything that was happening (even though I had new about it before being a history junky).)
AUTHOR'S WEBSITE/ OTHER BOOKS:
Eva doesn't have her own site but here are some great lists and biographies I found: