Toil and Trouble
by H.P. Mallory
(Book 2 of the Jolie Wilkins Series)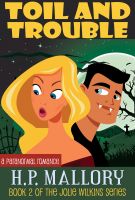 Age Warning:

17 and up (Sexual Content)
Published By:

Smashwords
Genre:

Paranormal Romance
Provided By:

Author
***SPOILER WARNING: If you haven't read the first book.***
After defending herself against fairy magic, Jolie Wilkins wakes to find the creatures of the Underworld on the precipice of war. While Jolie has one goal in mind, to stake the vampire who nearly killed her, she also must choose between the affections of her warlock employer and a mysteriously sexy vampire. Jolie's life will be turned upside down when she's thrust into the shock of a lifetime.
I love this series! After finishing Fire Burn and Cauldron Bubble I couldn't wait for the next Jolie Wilkins book to come out. Especially after the cliff hanger that happened at the end of book one. I mean Jolie is an amazing character that continues to grow, especially in Toil and Trouble. And you get an epic paranormal fix with everyone gathering for battle in the second installment.
Jolie after fighting the fairies so they will to join Rand and her in the epic paranormal world battle, is worn out and unable to use her magic. As her magic returns and she's able to continue on fighting for the rights of the paranormal world, the real battle begins to wage between Jolie and Rand. Because Rand won't allow Jolie access to his heart and she feels the need to show him her worth in this new world she's entered. I won't say more except in the last one hundred pages there is a major twist that makes you smile and think why didn't I figure it out before.
But I love this series, the magic, the vampires, the fairies and more, make it so easy to read and H.P.'s writing is easily understood. No wonder I can finish her books in less than a day! Check out Fire Burn and Caudron Bubble and Toil and Trouble if you haven't read them yet!

Congrats go out to H.P. who has signed with Random House Bantam for the Jolie Wilkins series!