This is going to be a long one, so if you want read the paragraphs that have bold items in them and the affiliate items you will get the jest.
So as I said I'm Back! I have actually made a schedule for posts! Can you believe it? I just have to get organized here, being away for almost three weeks makes me disorganized! I'll be updating the policies soon because they need to be updated. And also I'm not going to be participating in Teaser Tuesdays anymore, I just don't have the time to go and make the post up even though it's relatively easy.
Also this is a
big thing
! Every
Saturday
I will start reviewing
Adult Books
, this little thing below will notify you that it is an Adult Book and that the book has some content that shouldn't be read unless you over the age I suggest next to this button:
I have recently started reading Adult books and I feel that even though they have content I won't be reviewing they still have a plot line that is deserves to be reviewed! So yes Loud Words and Sounds is now going to be a YA, Adult, Manga and Music review site (what a mouth full).
And I am going to
start adding
a little line of like: publisher, publish date, genre, received from and format at the beginning of my reviews. Oh and also if I read it for a contest.
Well school started yesterday, and if you haven't guessed my age it's almost time for college for me, so I might be taking off from the blog (which I hope you won't notice) to go look at them on the weekends or weekdays. But I'm hoping to get used to pre-scheduling posts more (like this isn't pre-scheduled I'm writing this right now). Oh and I'm also taking a creative writing class this year! I'm looking forward to it, maybe I'll finally get the urge to write my story. I'm thinking of running for editor of the school paper, because the creative writing class is in charge of that and the literary magazine.
Oh and also
check out these two blogs:
and
Because guess what! I designed them. I love them, and I want to steal the first one's design. But *shush* don't tell her that!
Alright so I have some announcements here! Because *dun dun dun* I have elected to invite two more affiliates to join in my affiliates! Their both very awesome people and really cool. So with out further ado here's the first one:
Mike from The Subtle Chronicler, I've known Mike for about 2 years I guess, I met him on the Barnes and Noble site. And didn't find out until Ky told me that he had a blog about five months back. He is now my only guy affiliate and loves to read, but I'll let him say that here's mike for a little bit:
Michael or Mike, is an 19-year-old dude from New Jersey. He breaks all juice head guido stereotypes with his love for books and only fist pumps occasionally. He's trying to change the ways of literature blogging by getting more males into it so that it's not only females. Talk about setting a goal for the change of the world. Oh, and he's single too so. . . (he made me say that)
I did not say that he wrote it by the way. Next I would like to introduce...
Alex from More than Just a Book, she and me connected when she asked for me to make a design for her. And well I asked her to be my affiliate. Unlike Mike up there, Alex doesn't have computer access right now because someone broke into her house and took her laptop. So be patient with her till she gets back on her feet. And when she does I'll have her write something for you guys.
In other Affiliate News:
All of us except for lucky Steph have went back to school! Yayayaya!
And Leilani is holding with Dija a cover remake and contest for some awesome books so check it out click the button below: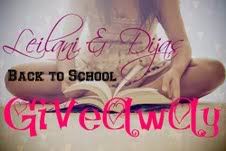 Ky has some awesome news also, instead of me telling you though you should go check it out!
I've been the recipient of this award several times, so thank you Alex! Though I know you won't see it because of you computer!