School Books Sunday is where I review a book that I've read in school or for school. This post is very infrequent due to the amount of books we do read in school.
BTW This is way way over due. Since I've been out of school for almost 3 weeks now.
The Great Gatsby
by F. Scott Fitzgerald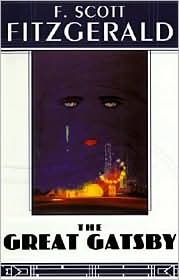 (Okay I can't really find a synopsis for this book, and since well I don't have it on me anymore you'll get the meaning in my review.)

Alright out of all the books I read this year at school I would say The Great Gatsby was one of the few I enjoyed. Taking place in the 1920s, Gatsby a man of new found wealth is trying to find his old beau Daisy Buchanan, and steal her back from her husband. Narrated by Daisy's cousin Nick, a friend to Gatsby's till the end, Nick see's the truth in the situation. He leads the reader through the book in truth, and tells what happens. The Great Gatsby is intriguing till the end, mystery, romance, and life during the prohibition are easily withdrawn from this book. And F. Scott Fitzgerald does a wonderful job with his characters and I really believe that the ending should have been different, just because of my hate for Tom and Daisy. But I'm not going to go ranting on that. So, yes I enjoyed this school book because of the one factor romance (I'm a romance junkie so shoot me), while a lot of my classmates disliked it because of the characters.
What do you think of The Great Gatsby by F. Scott Fitzgerald?