I met someone who changed everything. Matthias. My autistic sister's guardian angel. Honest. Inspiring. Funny. Hot. And immortal. That was the problem. What could I do? I did what any other girl would do-I fell in love with him. Zoë's sister darts in front of cars. Her brother's a pothead. Her parents are so overwhelmed; they don't see Zoë lost in her broken life. Zoë escapes the only way she knows how: partying. Matthias, a guardian sent from Heaven, watches over Zoë's autistic sister. After Zoë is convinced he's legit, angel and lost girl come together in a love that changes destiny. But Heaven on Earth can't last forever.
MY REVIEW:
Within the first paragraph of Heavenly by Jennifer Laurens you just want to continue reading. In fact my friend every time I took the book out tried stealing Heavenly because she read the synopsis and wanted it bad (she does that with my nook too). Jennifer Laurens has an excellent plot line, characters, and idea behind the book, Heavenly; which deals in a sense with ideas of what happens after death. While also the idea that everyone has the capabilities to gain a guardian angel.
The main character Zoe in the beginning of the story is a girl addicted to partying and drinking at points. Her life isn't like everyone knows, she has a younger sister with autism and a brother addicted to drugs. With her parents constantly taking care of her sister, Abria, Zoe flies under the radar. Until she meets Matthias, Abria's guardian angel. Matthias a boy from the early 1920s and killed in his early years of life, bonds with Zoe. With Abria calm and behaved when ever Matthias is around he's a life savor for Zoe. And soon a relationship of other sorts forms. Zoe a independent girl and Matthias the angelic hottie soon are faced with decisions and these decisions form the adventure of the book.
Heavenly through out the story kept me on the edge of my chair. If you like the idea of angels and guardians then you'll really enjoy this story. And if not you'll still like it because of the drama and romance that's within it. Also just to make a note since Zoe's brother is into drugs there are references to drugs and also alcohol from Zoe's partying. Jennifer Laurens does an excellent job with this book, and I really enjoyed reading this story about guardian angels. I'm looking forward to the third book, and I'll soon be reviewing the second Penitence.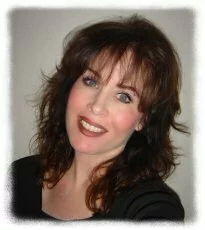 Jennifer started writing when she was in her youth, choosing to hole up in her bedroom creating stories rather than going out to play with friends. She attended Brigham Young University in Provo, Utah, where she took classes in English and Theater Arts. Later, life took her back to her home in Palos Verdes, California where she worked in the entertainment business before meeting her husband and marrying. They have been married for 24 years.
Jennifer is the mother of six children, ages 1
1- 23, one of whom has autism. She fell back into writing after lengthy jaunts into the fascinating hobbies of ceramics, porcelain dolls, tole painting and muffin making.
Her perfect day is spent writing from 9 until 5 while her family is at school and at work. She considers herself blessed that most every day is perfect
There are more trailers at
this link
this is one of my favorites.