Coffeehouse Angel

by Suzanne Selfors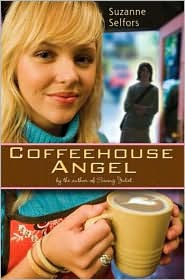 Published Date:
July 2009
From the author of Saving Juliet comes a romantic comedy that is good to the last drop. When Katrina spots a homeless guy sleeping in the alley behind her grandmother's coffee shop, she decides to leave him a cup of coffee, a bag of chocolate-covered coffee beans, and some pastries to tide him over. Little does she know that this random act of kindness is about to turn her life upside down. Because this adorable vagrant, Malcolm, is really a guardian angel on a break between missions. And he won't leave until he can reward Katrina's selflessness by fulfilling her deepest desire. Now if only she could decide what that might be . . .
Okay this book looks really cute and it is on my I want to read list. I just found it today when Reagan Star over at
Star Shadow
reviewed it, and I just love the cover and the synopsis. Plus it has some high ratings so thats good also!
UPDATE on an old Waiting on Wednesday, Richelle Mead has released the first chapter of
Spirit Bound
! Check it out
here
.