(This header is designed by me if you would like to use it please email me)
Teaser Tuesday is a weekly book blog meme, hosted by MizB of
Should Be Reading
. Anyone can play along!
Book Currently Reading:
Impossible by Nancy Werlin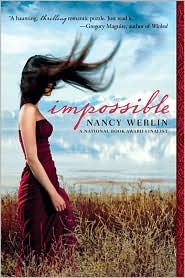 Lucy Scarborough is seventeen when she discovers that the women of her family have been cursed through the generations, forced to attempt three seemingly impossible tasks or to fall into madness upon their child's birth. How can Lucy succeed when all of her ancestors have tried and failed? But Lucy is the first girl who won't be alone as she tackles the list. She has her fiercely protective foster parents beside her. And she has Zach, whose strength amazes her more each day. Do they have enough love and resolve to overcome an age-old evil? Inspired by the ballad "Scarborough Fair," this spellbinding novel combines suspense, fantasy, and romance for an intense and masterfully original tale.
"Miranda had not left as Lucy had hoped. She had come to the track after school again today. And, for the first time, she had done more than sit and stare at Lucy..." ~Page 35
"Am I already crazy? Did I imagine all of this? I don't think so. But how would I know? Don't all crazy people think they're sane?" ~ Page 162
(I know this is late... I've had a long day, and finally have found some time to blog.)