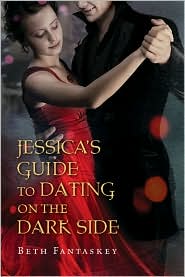 (From
bn.com
)
The undead can really screw up your senior year . . .

Marrying a vampire definitely doesn't fit into Jessica Packwood's senior year "get-a-life" plan. But then a bizarre (and incredibly hot) new exchange student named Lucius Vladescu shows up, claiming that Jessica is a Romanian vampire princess by birth—and he's her long-lost fiancé. Armed with newfound confidence and a copy of Growing Up Undead: A Teen Vampire's Guide to Dating, Health, and Emotions, Jessica makes a dramatic transition from average American teenager to glam European vampire princess. But when a devious cheerleader sets her sights on Lucius, Jess finds herself fighting to win back her wayward prince, stop a global vampire war—and save Lucius's soul from eternal destruction.
MY REVIEW:
Jessica's Guide to Dating on the Dark Side
is a genuinely greatly crafted novel. I loved the characters, they were all well thought out and detailed. You could never say that Beth Fantaskey copied this from any other vampire novel. This for one was a detailed original piece of work. And taking after
Dracula
by Stoker takes place in Romania, but also in America.
Jessica Packwood or Princess Anastasia Dragomoir was abandoned as a baby after her vampire parent's were staked. At the time the Packwood's Jessica's adoptive parents were studying in Romania and were instated with Jessica's saftey. Returning to the US, Anastasia was renamed Jessica. And 17 years later is visited by her pact husband, Lucius Vladescu, claiming to be her fiance. Lucius a warrior vampire prince, with charming looks and a tall muscular frame can and in my mind beats the likes of Edward Cullen (sorry but really Edward has been highly over hyped and I can no longer look at him the same). However Lucius now claims Jessica needs to return to Romania with him, or there will be a war. Over the next several months Lucius trys to win Jessica's heart. If it succeeds or not you will have to read the book to find out!
Well that summed the book up but, my opinion is that: a) this book is amazing, b) it was really well written and c) the cover is amazing. Beth Fantaskey did a great job when she wrote this novel and it completely deserves the 4 music notes I give it. I compeletly devored this book in one sitting and it still sits in my mind. And I really believe Beth should have wrote a sequel, but she continued with the story on her website, there's a link below so check it out if you've already read
Jessica's Guide to Dating on the Dark Side
.
AUTHOR'S WEBSITE/OTHER BOOKS:
See a short story or another book if you would like to say that follows Jessica's Guide here.
Click here to see Beth's other book that is coming out soon call

Jekel Loves Hyde

.
Look here for Beth's blog.
PREVIEW VIDEO:
There is also another video that I liked but it gave away alot of the plot here's a link to it:
http://www.youtube.com/